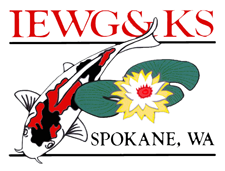 Mission:
To promote the hobby of water gardening, and the keeping of ornamental fish, to disseminate information about the above to the membership; to engage in the educational and social activities related to our purposes; and to acquire and own such property as may be necessary for any or all of the foregoing purposes. If you are interested in joining the Inland Empire Water Garden & Koi Society, click on "App" below and fill out the application. We welcome all members.
With summer heading our way, many of us will be spending a lot more time sitting outside admiring our fish and our pond. Why not share that time with other society members and guests while enjoying a root beer float!
Contact
floats at iewgks.org
to schedule your Floats on the Pond.
Membership benefits:


Shared knowledge base
Educational
Meet new friends
Access to library materials
Monthly newsletter
Show off your pond and fish
| | |
| --- | --- |
| | Join our online community to get the latest water garden and koi club news. |

Upcoming Meetings
MARK YOUR CALENDAR
NEXT MEETING
End of Year Luncheon
Date: November 11th
Time: 2:00 p.m.
Location: Barlows Restaurant
1428 N Liberty Lake Rd, Liberty Lake, WA 99019
RSVP by Oct. 28th to lindalifeisgood@gmail.com
We will be able to order individually, but we may only have 4 selections. Selections are: 1-Turkey Bacon Ranch Melt $19.00, 2-Barlows Fish and Chips (3 pieces of fish) $18.00, 3-Bacon Cheeseburger $18.00, 4-Citrus Spinach Salad $18.00. If your selection needs to be made prior to the 11th we will let you know. Most of these come with a choice of soup or fries. We will have some door prizes. And a White Elephant gift exchange. If you plan on participating in the gift exchange please have your item wrapped or bagged.
Hope to see everyone there!
We are available on Facebook if you have questions or concerns.